We are Pickle Events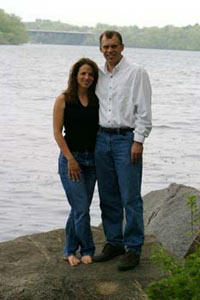 Our expert staff is lead by Brad Pickle and Chris Haukos, who have over 30 years of Recreational Event Management experience between them. We can time your race using chip technology, or serve as a consultant to assist you in creating the best event possible. Let us know what you would like help with and we can take it from there. We specialize in a variety of recreational events such as triathlons, runs, and cross country skiing. We also have years of experience in all aspects of recreation management, facility management and special event directing.
Pickle Events is located in St. Cloud, Minnesota, and has clients throughout the Midwest.
Chris Haukos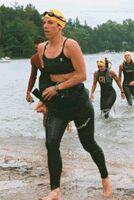 Chris has been an avid runner for fifteen years, competing in numerous road races including the Grandma's and Twin Cities Marathons. Chris started directing the Hoot Lake Triathlon in Fergus Falls so she could "try out the sport".
In 1999 she burst onto the Minnesota triathlon scene by winning the Timberman, Hoot Lake and Brewhouse triathlons. Next year, 2000, saw her capturing five more triathlon wins. That year she was voted one of the Top Ten Women Multi-sport Athletes of the year in Minnesota and placed third for Women's Triathlete of the Year in Minnesota.
Since 1997, Chris has also been the Fitness and Children's Program Coordinator of the Campus Recreation department at St. Cloud State University.
Chris' vast racing experience as well as her knowledge and tremendous energy are what Pickle Events is built around.
Brad Pickle
Brad's start was in recreation programming at St. Cloud State University in 1986. Since then, he has continued in recreation and facility management at the University of Illinois at Chicago, the University of Minnesota, Morris, and again at St. Cloud State.
The race management bug bit Brad after he met Chris and started taking her around the state to various runs and triathlons, trips that would later be known as the "Tour de Haukos."
In 2002, Brad decided to make the jump full-time into event management and along with Chris formed Pickle Events.
Besides directing various races, Brad has also been the three-time Executive Director of the Minnesota Star of the North Games in St. Cloud.
Sean Pickle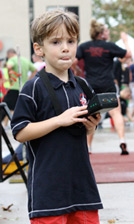 Sean is an up-and-coming backup timer who has literally grown up around event timing. Look for him at your next event!
We offer a wide range of event-related services, including consulting, race directing, event management, online registration, timing, and scoring.
We use only the finest timing and scoring equipment, including MyLaps chip and bib tag timing technology, RunScore race results software, and Time Machine timing devices.
More details are available on our Services page.
About this Website
Pickle Events has been online since 2002. We intend to continue to develop this site and turn it into a invaluable resource for the entire racing community.
Questions, comments and criticism are always welcome. Visit the contact page to get in touch with us.
If you're interested in advertising on the site, take a look at our advertising information page.