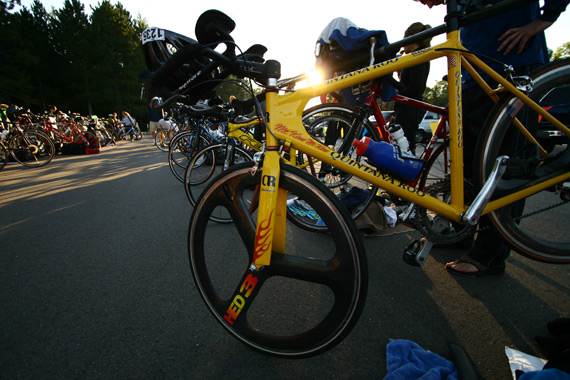 Make your event better
Jump to: Timing and Results · Management and Consultation · Event Services
With over 34 years of event management experience and thousands of satisfied runners, walkers, swimmers, bikers, and skiers, Pickle Events is a sure bet for a successful event.
With over 120 events a year, timing races is our focus. However, we offer a variety of other services and can put together a plan to meet your organization's needs. Please take a moment to look at what we can do for you, then contact us for more information. We look forward to working with you.
Providing accurate race times and results is what we do best. Using only the best race timing technology, Pickle Events provides reports with accurate race results throughout the race. When we're behind the stopwatch, you can rest assured that everything will run like clockwork.
Our timing services include any or all of the following technologies:
MyLaps (formerly ChampionChip)
Conventional timing chips
Disposable chip/tag timing with tags on the bibs or shoes
Summit Timers and Time Machines for backup timing
Electronic Race Clock
RunScore timing and results software
Data entry of race-day registrations
Labels for numbers and race packets
Training of timing volunteers
Formatted overall finisher list for immediate posting
Easy-to-read results for use in the awards ceremony
Media-ready results online
Online results
Online race calendar
Our experience in starting and directing numerous successful events can be an invaluable resource with the development of your own. Our expertise includes:
Event organization
Promotion
Course design
Volunteer training
Timing
Results
Supply needs
Sponsorship plans
And much more!
Keeping track of entry forms and race numbers can be a challenge. We are proud to partner with ZapEvent, a leading event registration company, to provide you with a convenient, secure, and inexpensive online registration process.

Finish line setup

Make the finish worth the effort. We have an inflatable finish line structure, poles, banners, and enough flagging for even the longest chutes.

Other race supplies

P.A. and sound system, bike racks, swim buoys, orange fencing and posts, course signs, race numbers, and awards.

Marketing

Get more racers with a smart marketing plan! Using brochures, mailing lists, online race calendars, email blasts, and website advertising, we can get the word out about your race.

Website development

Need a new website for your event, or just want to update your existing one? Our website staff will make sure you have the best online presence possible.

Race Announcer

We can provide a race announcer to help with announcements, play background music and announce finishers throughout the race. We provide the sound system.

Course certification

A properly measured course is an important part of a quality race. Runners will be guaranteed an accurate distance by having a race certified to USA Track & Field standards. We can provide contacts to get your course certified.

Race clock

Give your event the professional touch with our large, easy-to-read clock.

Course Mapping

Add the extras to your website and/or brochure by having your course map produced professionally by Jesse Adams of North Point Geographic Solutions. Jesse can create a static map or an animated map with many options such as course elevation. If you have an idea for a map, we can produce it.

Shirts/Merchandise

We can direct you to various vendors to help design and order shirts or any other type of merchandise for your event. We work with vendors with years of experience in art work and screen printing for major sporting events and organizations through the Midwest. Competitive prices, quality work, and timely deliveries are assured.